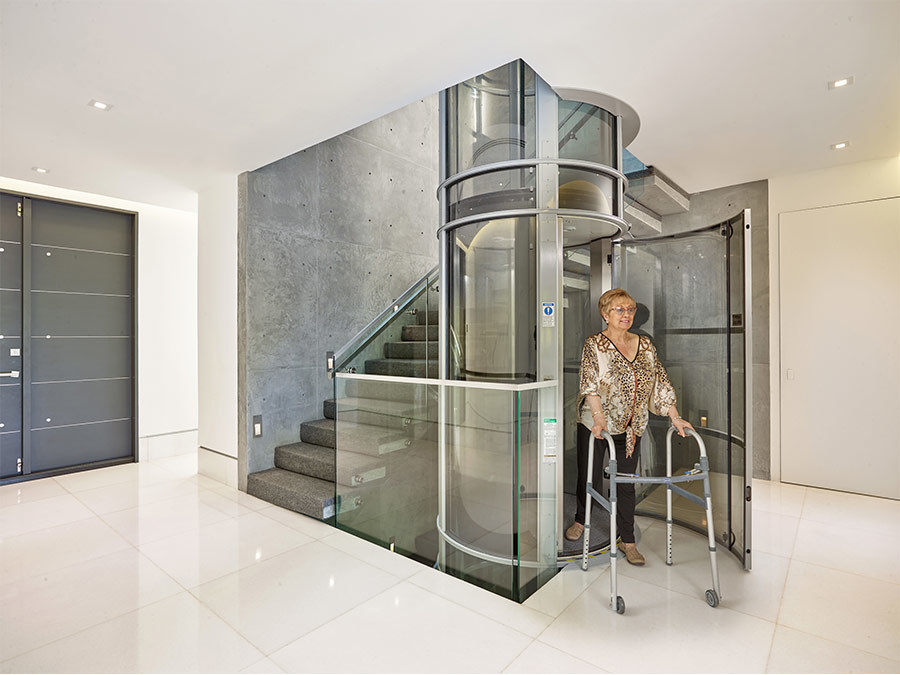 Pneumatic Elevator Systems
From a Trusted Manufacturer
There are many cases when vacuum elevators are the best type of unit to have in your home. They are convenient, sleek, and highly customizable for different needs. PVE is the only manufacturer of these advanced, air‑driven systems, which come in three variations. Best of all, these elevators are capable of up to a 50-foot (15-meter) vertical rise and as many as five stops.
Our elevators use a vacuum pump to generate areas of higher and lower atmospheric pressure within the cylinder hoistway. This allows the unit to move smoothly between floors while also using much less electricity.
Ideal for Retrofitting or New Builds
The distinct design of the vacuum residential elevator makes it a perfect choice for any retrofit or new construction project. In addition, the system enhances the value of one's home without the high-consumption footprint of a traditional residential elevator.
Easy-to-Install Technology
Our innovative home elevators do not require any pre-construction shaft, pit, or machine room. This means that they can be installed in as little as two to three days.
PNEUMATIC VACUUM ELEVATORS
Enhance the value of your home while gaining additional accessibility with an aesthetically pleasing, space-saving Home Elevator.
Certified by Lift Institute; meeting ASME elevator standards with over 15,000+ successful installations worldwide in 90+ countries since 2002.
All of our Home Elevators are pre-assembled and safety tested at our PVE® Factory Headquarters, ensuring quality standards rather than fabricated on-site during installation like other home lifts and home elevators.
Manufactured in the United States at PVE's Factory Headquarters in Miami, FL.
Traditional residential elevators and home lifts often require annual maintenance. Per PVE® certification, the first scheduled maintenance for a PVE® Elevator is after 15,000 lifts or roughly 5 years.
Unlike the slower, constant pressure hold to control operation of home lifts, PVE Home Elevators are single push, automatically operated home elevators, which travel at the max residential elevator standard speed.
Fully enclosed elevator simply rests on the existing ground floor. No ramp, unsightly posts, or unappealing rail systems required.
In the event of power failure while in operation, gravity is used to slowly descend to the ground floor with backup mechanical brakes and locks still operational. No faulty battery backup system required.
PVE® Elevators are manufactured to the height of your home. Travel up to 5 stops or 50 feet in total rise with these innovative home elevators.
Cleanest technology in the market. Unlike other drive systems, no harmful oils, gases, or lubricants are required.
220-volt power supply/energy-efficient residential elevators plug your home elevator into your wall.
Our lines are always open for your concerns. Get in touch with us and request a quote for an upcoming project.